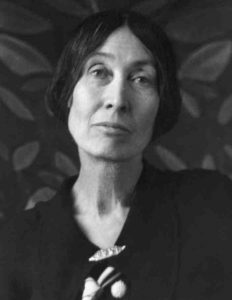 The story of the Irish-born poet Lola Ridge. First broadcast as a Lyric Feature on RTÉ lyric fm on Sunday 8th September 2019. Re-broadcast Sunday 29th November 2020.
When poet Lola Ridge died in 1941, the New York Times described her as one of the leading poets of America, but, until recent years, she has been largely forgotten.
Born in Dublin, growing up in Australia and New Zealand, she abandoned her husband (a move that echoed her mother's life) to move to Australia, and from there emigrated to the United States in her 30s, where she re-invented herself.
She played a central role in the world of modernist poetry, became a committed anarchist, and was one of the first poets to write about human rights, women's lives, race riots and the dangers of fascism. She believed that poetry could make a difference.
She maintained a life-long interest in the country of her birth, writing poems about Jim Larkin and the Easter Rising, and her legacy can be seen in the work of today's politically-committed poets, both Irish and international.
The contributors to the programme are: her biographer, Terese Svoboda, poet Sarah Clancy, Lucy Collins, Associate Professor in the School of English, Drama and Film at University College Dublin, Robert Pinsky, former poet laureate consultant in poetry to the Library of Congress, and composer Seán Doherty.
Lola Ridge's poems are read by Cathy Belton.
The programme contains settings by composer Seán Doherty of three works by Lola Ridge. New Dublin Voices, conducted by Bernie Sherlock, perform Snow Dance for the Dead, Undersong is performed by the Mornington Singers, conducted by Orla Flanagan, and It's Strange About Stars is performed by the Laetare Vocal Ensemble, conducted by Róisín Blunnie. Ned Rorem's setting of Electrocution by Ned Rorem is performed by Katherine Ciesinski.
Terese Svoboda's biography of Lola Ridge, Anything that burns you, is published by Schaffner Press. An anthology of her early work, To The Many, edited by Daniel Tobin, is published by Little Island Press.
Undersong is a Rockfinch Production for RTÉ lyric fm funded by the Broadcasting Authority of Ireland from the Television Licence Fee.
Presented and produced by Claire Cunningham. Sound supervision by Tinpot Productions.